Note: Meets CSS Level 3. W3C has not released the full specification for this level.
Note: To be updated to meet W3C HTML 5.0 when 5.0 is released - late 2010 or early 2011.
ONCE UPON A TIME THERE WAS A KNOT NO ONE COULD UNTIE . . .
THE GORDIAN KNOT WAS A SKILLFULLY TIED KNOT USED BY A PEASANT NAMED GORDIUS. HE USED IT TO TIE THE OX YOKE TO HIS CART.
AS ADVISED BY A DELPHI ORACLE TO BECOME KING, GORDIUS DEDICATED HIS CART AND YOKE TO ZEUS. THE LEGEND SAID THAT THE MAN WHO COULD LOOSEN THE KNOT WOULD BECOME RULER OF ALL ASIA.
IN THE YEAR 333 BC, AFTER MANY FAILED ATTEMPTS, A MIGHTY MACEDONIAN KING CAME TO ASIA. FLANKED BY HIS TROOPS AND ARMED WITH ONE OF HISTORY'S FINEST AND MOST CREATIVE MINDS, ALEXANDER THE GREAT STOOD TRANSFIXED BEFORE THE KNOT. SUDDENLY, A FLASH OF INSPIRATION LIT UP HIS FACE. WITH ONE BOLD AND INNOVATIVE STROKE, ALEXANDER THE GREAT UNTIED THE UNTIE-ABLE. GRASPING HIS SWORD, HE SLASHED THROUGH THE KNOT WITH A SWIFT AND DECISIVE BLOW AND WENT ON TO RULE ASIA.
ALEXANDER AND THE DELPHI ORACLE (LEFT)
AND
ALEXANDER THE GREAT (RIGHT)
"I came, I saw, I conquered ...to cut the Gordian Knot".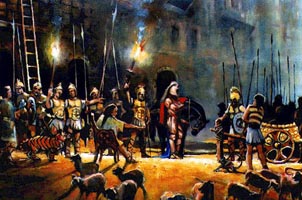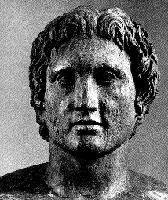 TODAY, THE WORLD HAS CHANGED. DRAMATICALLY. BUT THE NEED FOR INNOVATIVE THINKING REMAINS THE SAME.
AT L RICKS ASSOCIATES, LET OUR INNOVATIVE THINKING ASSIST YOU WITH YOUR SPECIFIC PRODUCTIVITY, DOCUMENTATION, AND MANAGEMENT REQUIREMENTS.